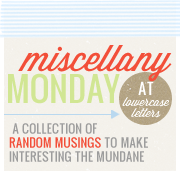 I have spent 3 days on the couch with extreme back pain. I've been on muscle relaxers, ice, advil... you name it, I've been using it! I'm so mad about this because I can't workout, can't sit @ my desk @ work, can't do laundry. Really, the only think I can do is lay here. Uh!

I finished

The Girl with the Dragon Tattoo

this weekend. It was the kind of book that captured my attention within the first chapter. It's very raw & violent... but, I did enjoy the book. I'm already reading the 2nd book in the trilogy 

The Girl Who Played with Fire (Vintage)

. If you haven't read them, you must!

I can't wait for Book Club on Wednesday!

We are going to a Halloween party on Saturday night, and have no idea what we are dressing up as. Suggestions?

My Goddaughter turns 4 this week... hard to believe she's grown up so fast!